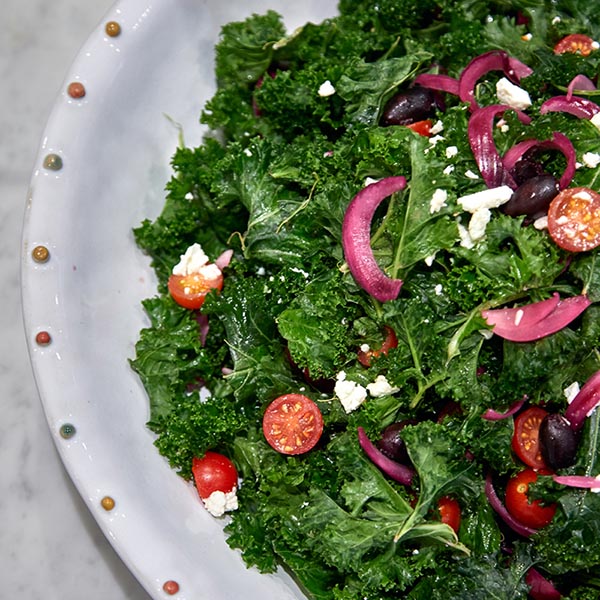 Matcha you will need
Kale Greek Salad
Ingredients
400g red onions
350ml white wine vinegar
1 tbsp sea salt
2 tbsp demerrara sugar
600g kale
300g Kalamata olives
400g cherry tomatoes
200g feta cheese
2 tbsp lemon juice
3 tbsp olive oil
Sea salt
Method
To pickle the onions, peel and cut them into thin slices, place them in a bowl. In a saucepan, bring the vinegar, sugar and salt to the boil, pour the liquid over the sliced onions and cover with cling film. Leave to cool down completely and place them in the fridge for 24 hours.
Wash the kale and remove hard parts, pour the lemon juice and sea saltover the kale and start massaging the kale with your hands to breakdown the fibre, which will soften it and make it much easier to eat.
Cut the cherry tomatoes in half.
Crumble the feta cheese
In a salad bowl add the massaged kale, cherry tomatoes and pickled onions. Pour over the olive oil and stir.
Top with the crumbled feta cheese and Kalamata olives.
You need to pickle the onions in advance. Why not doube the quantity of pickled onions and make a bigger batch? You can store them in the fridge for a few weeks in a sterilised jar (this is very simple and you can find details on how to do this online). Pickled onions go nicely with any salad. We use red onions because they are sweeter than yellow one and also bring a nice colour to any dish.
Matcha you will need